Treat Mom to a phenomenal brunch on Sunday May 8th, for Mother's Day!
Please call (406) 863.4040 to reserve your table today.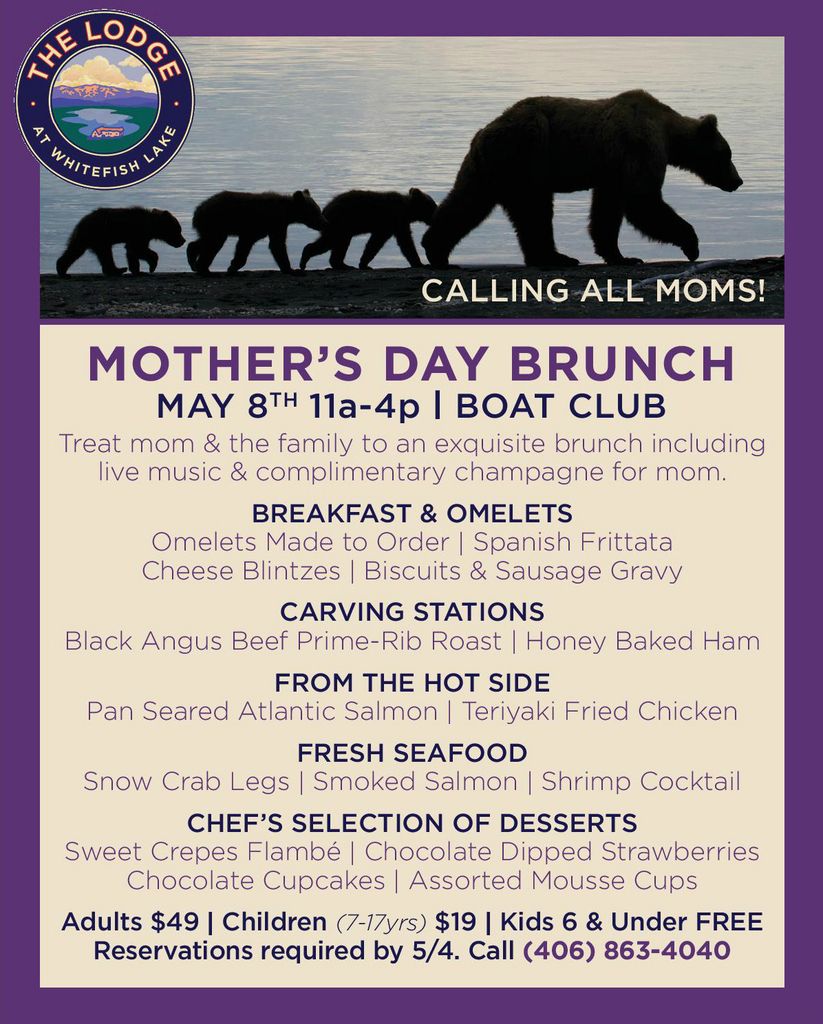 Welcome to the Boat Club Lounge & Restaurant!
Winner of the Taste of Whitefish 2015, and Voted The 2012 Best Happy Hour in Whitefish, the Boat Club is a favorite among the locals as well as the traveling guest.  Our new Boat Club team, including Executive Chef, Jorge Morales, Food & Beverage Director, Tim Lanaghan, and Restaurant Manager, Heather Shoff, have transformed the dining experience at the Lodge.  From the freshly trained staff to new Montana-grown products on the menu, we hope you'll notice all the positive changes they've made this past year.
We are proud to offer our guests five separate dining experiences for breakfast, lunch and dinner.  Our lakefront dining room provides guests with specialty coffees and a plated breakfast selection including all the classics and some more intriguing options, like our new Smoked Trout Benedict. Enjoy breakfast with breathtaking views of Whitefish Lake–a sure way to start a great day!
We offer the only lakefront dining in Whitefish and the Boat Club Lounge patio deck provides the ideal setting for a casual lunch or dinner.  Enjoy salads, wraps and pizzas off the lounge menu or venture down to the Tiki Bar & Grill during our summer season, where you'll find a laid-back atmosphere, blended drinks and tasty bar food off the grill.
For the special occasion with family and friends, take it up a notch and make a reservation in the Boat Club Dining Room.  We offer the finest specialty steaks from corn-fed cattle in Ohio, locally grown and raised produce and fresh fish daily.  We offer dishes exquisite enough to satisfy the most discerning palate, yet fulfilling enough to be considered good old fashioned comfort food for our local Montanans.
Reservations in the lounge and dining room are highly recommended for dinner, especially in the peak summer season.  A 45-minute wait is not uncommon for our walk-in guests.  Please call 406-863-4040 to make your reservation today.  We hope to see you soon for a Boat Club meal with us!!
Sincerely,
The Averill Family & Boat Club Staff

 Live Music in the Boat Club Lounge     |     Weds   6 – 9 p     Fri/Sat   7 – 10p
Enjoy local talent perform a bit of everything from blue grass to your favorite covers in the Boat Club Lounge. See our Calendar of Events at the base of the page to find out who is playing this month.
Chef's Seafood Feature     |     Fridays   5p
Enjoy a delectable new feature each week!
Après Ski     |     Daily   4 – 6p
Enjoy drink features & discount appetizers!
Please note that applicable taxes on all sales are subject to change.